Ready to start a new journey with the best Ohio whitetail outfitter?
20% Discount
for active or inactive veterans & law enforcement
Hunting in Whitetail Heaven Outfitters:
Welcome to our North Lodge, nestled in the beautiful region of Southern Ohio, right on the banks of the Ohio River. Located a mere 1/4 mile from the bridge that connects Ohio to Kentucky, our lodge offers a distinctive hunting experience in the #1 Boone and Crockett-producing counties of both states.
The Ohio River is the natural border that separates these two extraordinary regions, creating a haven for trophy buck hunters. Known as one of the finest trophy buck regions in the world, our location sets the stage for unforgettable hunting experiences.
Immerse yourself in the comfort and luxury of our North Lodge, a stunning 8500-square-foot retreat that boasts a prime position overlooking the river. With a backyard that borders the river, you'll wake up to breathtaking views and enjoy a serene atmosphere throughout your stay.
Situated in Aberdeen, Ohio, our lodge is strategically positioned right on the famed Adams County line. This location serves as the gateway to some of the most coveted hunting grounds in the area. We primarily hunt in Adams, Pike, Highland, and Brown counties while also exploring Lewis and Mason counties in Kentucky.
When it comes to trophy buck Ohio deer hunting, Adams and Highland counties reign supreme as the #1 Boone and Crockett-producing counties in the entire state. By choosing our North Lodge, you gain exclusive access to these prestigious hunting grounds, increasing your chances of encountering majestic trophies and creating memories that will last a lifetime.
The Best Ohio Whitetail Outfitter
We understand the importance of adhering to Ohio's hunting regulations. Rest assured, our knowledgeable guides will ensure that you have a safe and compliant hunting experience, adhering to all Ohio hunting regulations.
Stay Connected
At Whitetail Heaven Outfitters, we believe that staying connected is an integral part of your deer hunting experience. We understand the importance of sharing your Ohio deer hunting adventures with your loved ones, so we provide complimentary Wi-Fi in every lodge we offer. With our reliable and fast internet connection, you can stay connected throughout your stay and share your thrilling moments, breathtaking captures, and unforgettable experiences with friends and family right from the heart of Ohio's beautiful wilderness.
Unwind in Style
After a long and exciting day on the hunt, we know that you deserve to unwind and relax in style. Our accommodations go beyond providing a comfortable resting place; they offer the perfect space to relax. Each lodge features Satellite or Cable TV, allowing you to kick back and catch up on your favorite shows or sports events. Immerse yourself in the comfort of our well-appointed lodges, settle down in front of the TV, and enjoy some quality downtime. It's the ideal way to relax before your next thrilling Ohio deer hunting adventure.
Connect and Create Memories
At Whitetail Heaven Outfitters, we believe that hunting is not just about pursuing the game but also about building connections and creating lifelong memories. Our lodges are designed with spacious common areas, fostering a sense of community and fellowship among our clients. These areas are specifically crafted to encourage relaxation, mingling, and storytelling. Here, you can bond with fellow hunters, share your experiences, and form lasting connections in an environment that celebrates the love for Ohio deer hunting. Forge long-lasting friendships even after the hunt ends as you create memorable moments together.
Ready to start a new journey with the best Ohio whitetail outfitter?
20% Discount
for active or inactive veterans & law enforcement
What makes us different?
At Whitetail Heaven Outfitters, we take pride in offering intensely managed locations with a 100% fair chase environment. There are no boundaries, no limits, just you, the wild, and the exhilarating pursuit of your trophy buck. Leave behind the confines of artificial barriers and embrace the authenticity of Ohio deer hunting. This is the real deal, a testament to the indomitable spirit of the wilderness and the purest form of hunting.
As you venture through our Ohio deer hunting experience, you'll witness nature in its purest form. Majestic forests, rolling hills, and crystal-clear streams set the stage for your encounter with the elusive whitetail deer. The thrill of tracking, the rush of the chase, and the adrenaline-filled moment of a perfect shot are the memories that await you at Whitetail Heaven Outfitters.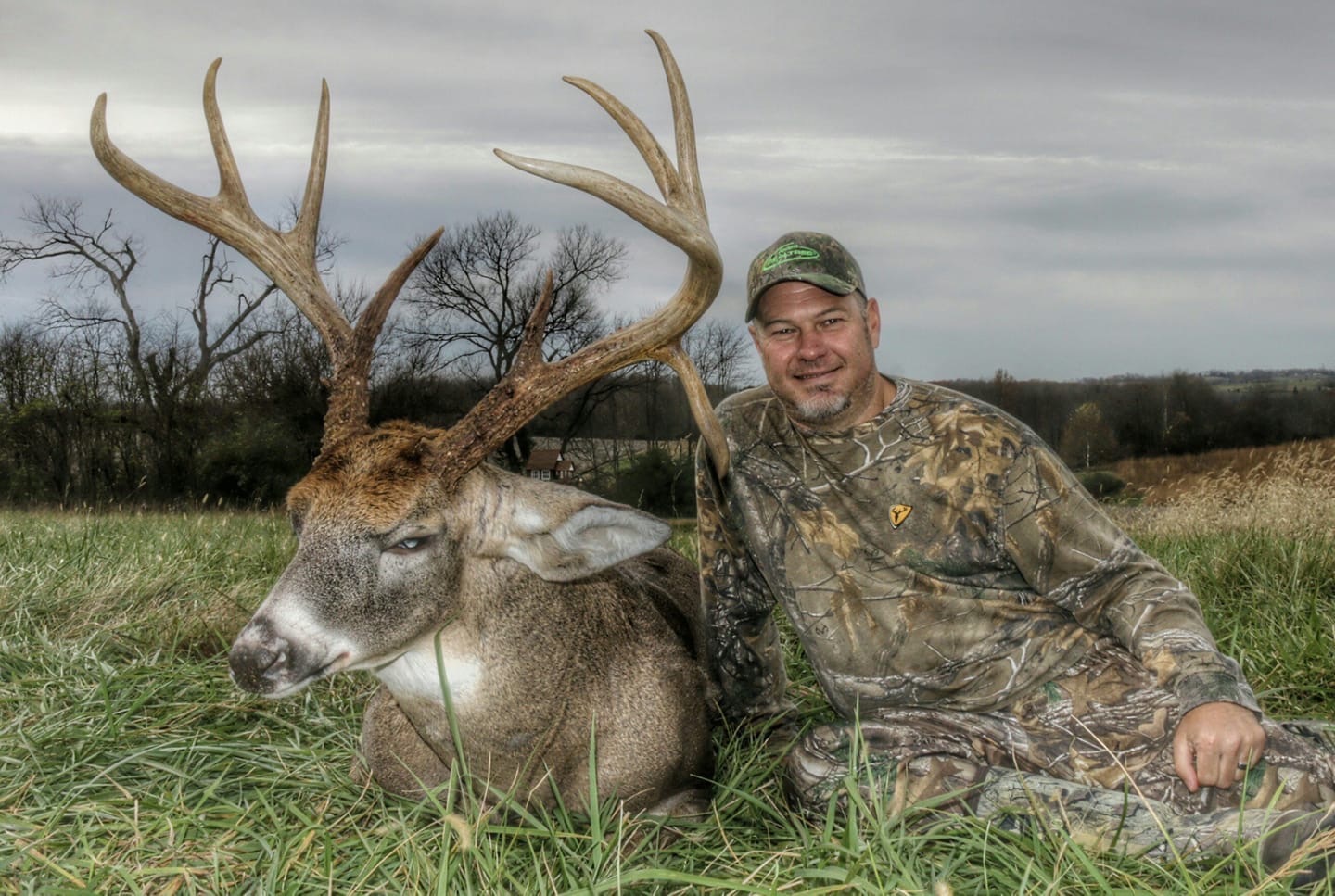 But that's not all!...
At Whitetail Heaven Outfitters, we are committed to delivering exceptional Ohio deer hunting experiences; we understand that every hunter has unique preferences and desires, so we offer diverse options to cater to your needs.
We take great pride in our ability to achieve a successful hunt, specifically for whitetail deer. Our dedication to meticulous land management, along with the expertise of our guides, guarantees that your chances of capturing that coveted trophy buck are maximized. It is not surprising that Petersen's Bowhunting Magazine has rated us as America's best deer destination.
Whether you are a seasoned hunter looking for a new challenge or a beginner seeking guidance, our team is here to support you every step of the way. We prioritize Ohio hunting regulations, safety, ethics, and responsible hunting practices, ensuring that your experience is not only thrilling but also respectful to nature.
Additionally, we place great importance on accessibility at Whitetail Heaven Outfitters. We firmly believe that everyone should be able to enjoy the experience of whitetail deer hunting. For this reason, we have prioritized creating handicap-friendly accommodations, guaranteeing that hunters of all abilities can join us in pursuing their passion.
Ready to start a new journey with the best Ohio whitetail outfitter?
20% Discount
for active or inactive veterans & law enforcement
I have hunted with Whitetail Heaven for 4 years now. I have hunted in Kentucky for 4 years, Kansas 1 year, and Florida for 1 year with them. They have over 70,000 acres of hunting ground and manage each acre intensely to grow mature deer and turkeys. Meals, lodging, and guides have been top notch at each lodge that i have been to. I have already booked my 2023 hunts with them in Florida, Kansas, and Kentucky. I can't wait to get the 2023 season started! Below are some pics of my sucessful hunts with Whitetail Heaven.
If you are looking for a destination for an amazing Whitetail opportunity I would highly suggest Whitetail Heaven. The staff along with the catering and the accommodations are top notch best you'll find live far. and if Dear is not your thing they have plenty of turkey I have turkey hunting with them now for a few years and it is just as top-notch as the deer hunting. Good luck on your hunt!!
We booked a youth deer hunt and we had an awesome time. Our guide was Tony and he really tell he wanted us to be successful. The chef team, Josh and Michelle, cooked fantastic meals for us. My daughter hasn't stopped talking about the wonderful time she had. Thanks again.
I'd recommend Whitetail Heaven to any one! I've (deer) hunted south and west camp and had a great experience at both. Saw deer every day at both camps (2021 west & 2022 south) and was fortunate enough to harvest a nice buck at south camp this year. The guides I've had have been great and really put me in spots to see deer. It was evident they were familiar with their farms. TJ was very helpful and knowledgeable, and Timmy is THE MAN! I Could tell he knew his stuff. I will definitely be booking again.
About Us
With over 70,000 acres of pristine hunting grounds spanning six states, our commitment to excellence is evident in every aspect of our operation. For more than two decades, we have dedicated ourselves to perfecting the art of guided hunting and establishing a reputation as leaders in the industry.
Our dedication to providing exceptional services has been acknowledged by the prestigious Petersen's Bowhunting magazine, which rated us as the "best deer hunting destination in America." This recognition further solidifies our commitment to maintaining the highest standards of quality and customer satisfaction.
JOIN THE BEST OHIO WHITETAIL OUTFITTER AND START A NEW, MEMORABLE, AND EXCITING EXPERIENCE!
And remember…
NOBODY DOES WHAT WE DO!
Our Available OHIO Whitetail Hunts