Ready to start a new journey with the best Indiana whitetail outfitter?
20% Discount
for active or inactive veterans & law enforcement
Hunting With Whitetail Heaven Outfitters
At Whitetail Heaven Outfitters, we offer an exceptional hunting experience in the heart of Indiana's beautiful landscapes. Our hunting grounds are situated in Southern Indiana, along the Ohio River or nearby, providing an ideal habitat for whitetail deer. With our expert guides and excellent accomodations, we ensure an unforgettable adventure for hunters like you.

Indiana is renowned for its abundant deer population and exceptional trophy potential, making it a prime destination for hunters seeking a thrilling and rewarding experience. Our hunting territory spans Indiana and Kentucky, allowing you to hunt in two states during your visit. Located just a few miles from the Corydon Bridge, our campsite offers convenient access to both states, making it easy to explore different hunting grounds.
The Best Indiana Whitetail Hunting Outfitter
Our expert guides possess extensive knowledge of the local deer population and their behavior, adapting the hunt and ensuring you have the best opportunity to harvest a trophy buck. They will share their expertise, guiding you through the hunting experience and helping you make the best decisions to maximize your chances of success.
We understand that a successful hunting trip is not just about the harvest. It's about immersing yourself in the beauty of nature, forging lasting connections with fellow hunters, and creating memories that will last a lifetime. When you choose us, you're not just signing up for a hunt; you're embarking on a journey filled with fun, fellowship, and the best experience when it comes to Indiana deer hunting.
Our lodges are designed to offer you the highest comfort and convenience during your stay. Every lodge at Whitetail Heaven Outfitters ensures you stay connected with complimentary Wi-Fi, allowing you to share your hunting adventures with friends and family. We understand the importance of staying connected, even in the heart of the wilderness. Additionally, satellite or cable TV is available in each lodge, providing the perfect opportunity to unwind and catch up on your favorite shows or sports events after a thrilling day in the field.
Ready to start a new journey with the best Indiana Whitetail Hunting Outfitter?
20% Discount
for active or inactive veterans & law enforcement
What makes us different?
When it comes to Indiana deer hunting, Whitetail Heaven Outfitters stands out from the rest. Our experienced guides possess an intimate knowledge of the local terrain and the behavior of whitetail deer, ensuring you have the best chance at a successful hunt. We offer a range of hunting packages tailored to meet your specific needs and preferences, whether you're an expert hunter seeking a trophy buck or a newcomer looking to experience the thrill of the hunt for the first time.

We take pride in offering a one-of-a-kind experience that sets us apart from other Indiana deer hunting experiences. With our prime location in the heart of the hottest whitetail destinations in the world, we have been delighting our clients for over 21 years, consistently achieving extremely high success rates.
What truly sets us apart is our focus on offering the best Indiana deer hunting experiences. With its rich hunting heritage and diverse landscapes, Indiana provides unparalleled opportunities to hunters seeking an exceptional whitetail hunt. We understand the behavior and patterns of big bucks, allowing us to provide our clients with an excellent opportunity to harvest a mature B&C scoring buck.
As one of the leading Indiana whitetail outfitters, we go above and beyond to ensure that every aspect of your Indiana deer hunting experience is meticulously planned and executed to perfection. Our experienced guides, who possess an intimate knowledge of the land, will accompany you throughout your journey, offering invaluable insights and maximizing your chances of success.
Our meticulously maintained properties have been carefully cultivated to create the most optimal environments in the Indiana deer hunting community. Our team employs a range of strategic land management techniques, including food plot development, timber stand improvement, and precise land manipulation, all designed to enhance the quality and quantity of game on our properties.
When you choose Whitetail Heaven Outfitters, you are not just selecting a hunting outfitter but an exceptional experience that combines unparalleled hunting opportunities, expert guidance, and a genuine passion for the outdoors. Join us, and discover the difference that sets us apart, and be part of this unforgettable Indiana deer hunting experience.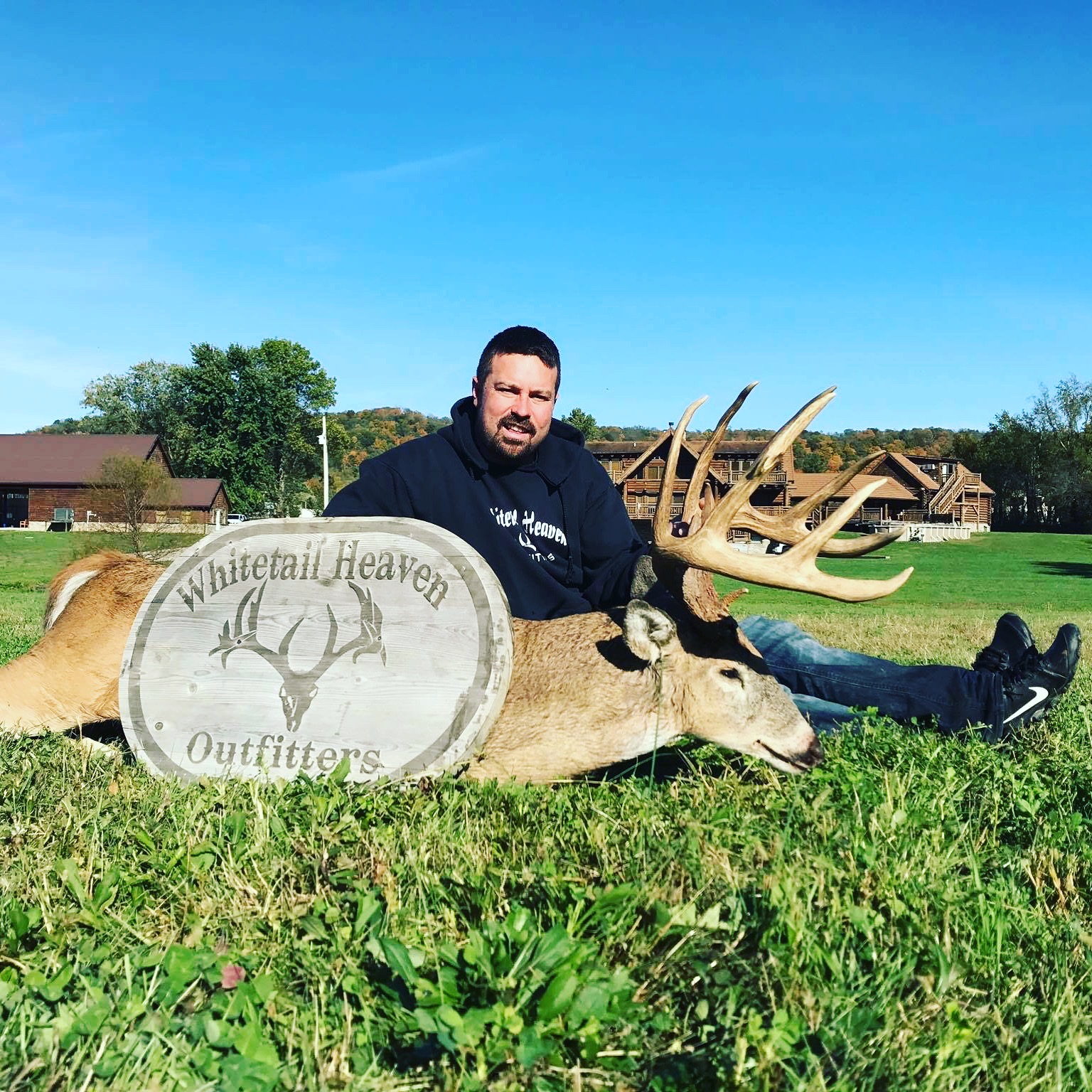 But that's not all!...
We understand that the ultimate goal is to bag a nice whitetail deer, and at Whitetail Heaven Outfitters, we are proud of our high success rates. Our commitment to intense land management, combined with our experienced guides, ensures that your chances of bringing home that trophy buck are as high as possible. It's no wonder that Petersen's Bowhunting Magazine has rated us as "America's best deer destination." With us, you'll have the best Indiana deer hunting experience.
Ready to start a new journey with the best Indiana Whitetail Hunting Outfitter?
20% Discount
for active or inactive veterans & law enforcement
I have hunted with Whitetail Heaven for 4 years now. I have hunted in Kentucky for 4 years, Kansas 1 year, and Florida for 1 year with them. They have over 70,000 acres of hunting ground and manage each acre intensely to grow mature deer and turkeys. Meals, lodging, and guides have been top notch at each lodge that i have been to. I have already booked my 2023 hunts with them in Florida, Kansas, and Kentucky. I can't wait to get the 2023 season started! Below are some pics of my sucessful hunts with Whitetail Heaven.
If you are looking for a destination for an amazing Whitetail opportunity I would highly suggest Whitetail Heaven. The staff along with the catering and the accommodations are top notch best you'll find live far. and if Dear is not your thing they have plenty of turkey I have turkey hunting with them now for a few years and it is just as top-notch as the deer hunting. Good luck on your hunt!!
We booked a youth deer hunt and we had an awesome time. Our guide was Tony and he really tell he wanted us to be successful. The chef team, Josh and Michelle, cooked fantastic meals for us. My daughter hasn't stopped talking about the wonderful time she had. Thanks again.
I'd recommend Whitetail Heaven to any one! I've (deer) hunted south and west camp and had a great experience at both. Saw deer every day at both camps (2021 west & 2022 south) and was fortunate enough to harvest a nice buck at south camp this year. The guides I've had have been great and really put me in spots to see deer. It was evident they were familiar with their farms. TJ was very helpful and knowledgeable, and Timmy is THE MAN! I Could tell he knew his stuff. I will definitely be booking again.
Choose Whitetail Heaven Outfitters for an unforgettable Indiana deer hunting experience. Our dedication to excellence, attention to detail, and commitment to your satisfaction set us apart. Join our family, and let us make your hunting adventure exceptional.
JOIN THE BEST INDIANA WHITETAIL OUTFITTER AND START A NEW MEMORABLE, AND EXCITING HUNT!
And remember…
NOBODY DOES WHAT WE DO!
Our Available Indiana Whitetail Hunts