Ready to Plan Your Osceola Turkey Hunt With Us?
20% Discount
for active or inactive veterans & law enforcement
If you're searching for a top-tier hunting and fishing experience in Florida, look no further than Whitetail Heaven Outfitters. Based across multiple counties in the scenic state of Florida, we offer an array of thrilling outdoor activities that cater to both avid hunters and fishers. Whether you're interested in Osceola turkey hunts, hog hunting, or trophy bass fishing, we have the expertise, experience, and breathtaking locations to make your adventure truly remarkable this Florida hunting season.

Our Osceola turkey hunts take place across 12,000 acres of prime hunting grounds scattered mainly in Volusia, Putnam, and Flagler counties; our properties are carefully selected to provide the highest probability of a successful harvest. Expert guides will lead you through small and large tracts of expansive farmlands, ensuring that you have the best chance of encountering the game you seek. Typical hunts span three days, but if you tag out early or want to add some excitement to your trip, we also offer hog hunting for an additional fee. With an abundance of hogs on our properties, this thrilling experience is sure to leave you with unforgettable memories.
When it comes to Osceola turkey hunting, Whitetail Heaven Outfitters is unparalleled. Volusia County, where our hunts take place, is renowned as the home of the world record Osceola Turkey. With our extensive knowledge of the area and our commitment to providing high-quality Osceola turkey hunts, you can trust that your experience with us will be nothing short of exceptional.
We combine unmatched expertise, pristine locations, and a dedication to ethical hunting practices to ensure you will have the best chance of success.
Ready to Plan Your Osceola Turkey Hunt With Us?
20% Discount
for active or inactive veterans & law enforcement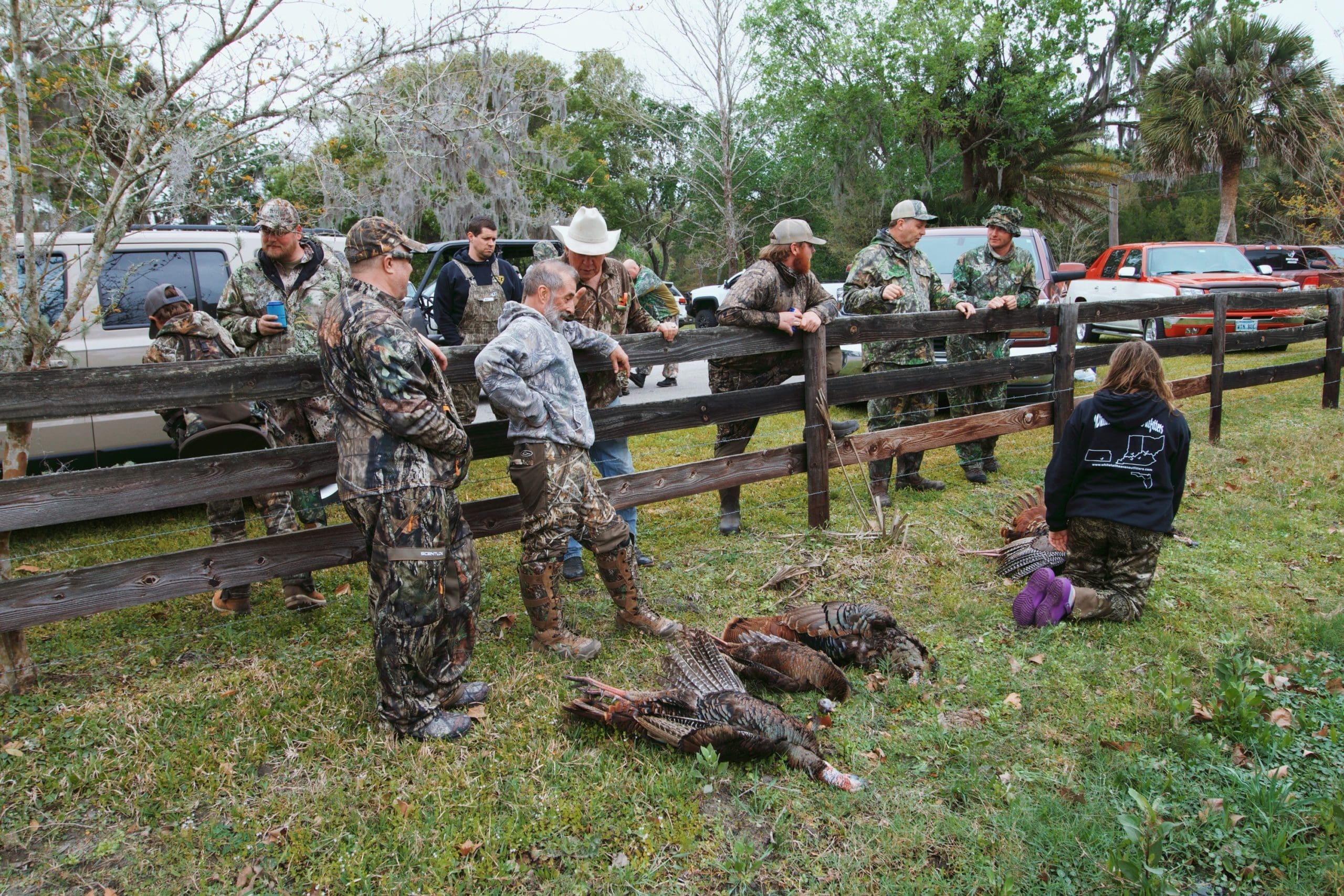 But that's not all!...
Osceola turkey hunts aren't the only experience we offer. If you're an avid angler or simply looking to try your hand at trophy bass fishing, our experienced guides will take you to the bass capital of the world - Crescent City.

Fishers from all over the globe flock to this area to experience the thrill of reeling in massive trophy bass. Our bass fishing expeditions are conducted on the renowned Harris Chain of Lakes, the St. Johns River, Lake George, Crescent Lake, and more. Get ready for an adrenaline-pumping adventure as you pit your skills against these legendary bass, with our expert guides there to offer invaluable tips and guidance along the way.

Moreover, our location offers more than just a hunting or fishing experience. We are conveniently situated only minutes away from the beach, making it the perfect adventure for the whole family. If you're planning a visit to Disney, we are just an hour away, making Whitetail Heaven Outfitters an ideal destination for a family vacation or a memorable spring break getaway.
Ready to Plan Your Osceola Turkey Hunt With Us?
20% Discount
for active or inactive veterans & law enforcement
I have hunted with Whitetail Heaven for 4 years now. I have hunted in Kentucky for 4 years, Kansas 1 year, and Florida for 1 year with them. They have over 70,000 acres of hunting ground and manage each acre intensely to grow mature deer and turkeys. Meals, lodging, and guides have been top notch at each lodge that i have been to. I have already booked my 2023 hunts with them in Florida, Kansas, and Kentucky. I can't wait to get the 2023 season started! Below are some pics of my sucessful hunts with Whitetail Heaven.
If you are looking for a destination for an amazing Whitetail opportunity I would highly suggest Whitetail Heaven. The staff along with the catering and the accommodations are top notch best you'll find live far. and if Dear is not your thing they have plenty of turkey I have turkey hunting with them now for a few years and it is just as top-notch as the deer hunting. Good luck on your hunt!!
We booked a youth deer hunt and we had an awesome time. Our guide was Tony and he really tell he wanted us to be successful. The chef team, Josh and Michelle, cooked fantastic meals for us. My daughter hasn't stopped talking about the wonderful time she had. Thanks again.
I'd recommend Whitetail Heaven to any one! I've (deer) hunted south and west camp and had a great experience at both. Saw deer every day at both camps (2021 west & 2022 south) and was fortunate enough to harvest a nice buck at south camp this year. The guides I've had have been great and really put me in spots to see deer. It was evident they were familiar with their farms. TJ was very helpful and knowledgeable, and Timmy is THE MAN! I Could tell he knew his stuff. I will definitely be booking again.
About us
As the best Florida turkey hunting outfitter, we take pride in our meticulous management of over 12,000 acres of prime hunting grounds. Our commitment to sustainable practices and our tradition of ethical hunting ensures the best hunting experience. With our intense management practices and the guidance of our experienced team, we consistently achieve the results that discerning hunters seek.
So, whether you're a passionate hunter seeking the best Osceola turkey hunting experience, a fishing enthusiast seeking the thrill of trophy bass, or a family looking for an unforgettable adventure, Whitetail Heaven Outfitters, the best Florida turkey hunting outfitter, is here to make your hunt even more memorable and exciting.
Discover the best of Florida's hunting and fishing seasons with our dedicated team of professionals. Book your adventure today and experience the magic of Florida hunting and fishing with Whitetail Heaven Outfitters, your trusted outfitter for Osceola turkey hunts.
JOIN THE BEST OSCEOLA TURKEY HUNTING EXPERIENCE AND START A NEW MEMORABLE AND EXCITING EXPERIENCE!
And remember…
NOBODY DOES WHAT WE DO!
Our Available Osceola Turkey Hunts